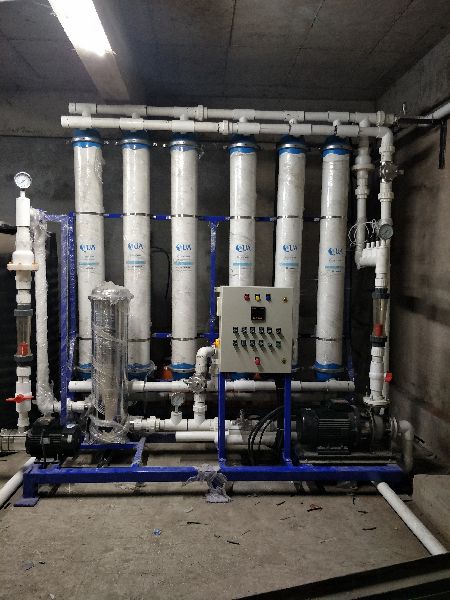 Water is said to be the life force. Several theories suggest that life first began in water, and from water it came onto the land. The human body of an average adult consists of 50-65% water. The human brain is over 75% water. And the water in the human body performs various vital functions; helpful in maintaining the body temperature, formation of saliva, detoxifying the body, lubricating joints, delivering oxygen and many other things.
When water is as important as life in itself is, shouldn't we get pure and clean drinking water? Drinking contaminated water can lead to serious health issues such as cholera, vomiting, typhoid, catching worms or even death. It can also cause serious chronic health issues. Hence, it is the best decision to feed your body with pure and disinfected water. As a necessity, Ultrafiltration System has emerged to filter and disinfect water.
About Ultrafiltration Water Purifier
Ultrafiltration System removes harmful bacteria and disinfects water by using semipermeable membrane. Semipermeable membrane is made of fiber, which is thin enough to remove impurities of water. For the water to pass through it easily some force is applied; this removes harmful substances of high weight. The biggest benefit of Ultrafiltration water purifier is that it works without electricity, but still is very effective in getting rid of microorganisms and viruses. Ultrafiltration water purifiers aren't costly.
Benefits Of Ultrafiltration Water Purifier
As you have read above, one of its best benefits is it works without electricity, with normal pressure supply of water. So, no need to be worried about pure drinking water even during frequent electricity cuts. This purifier can easily make dirty or muddy water drinkable. Moreover, it is blessed with a long life. The life of a quality Ultrafilteration water purifier is expected to be more than 10 years. One time investment on this provides long durability. You may be concerned about its safety, right? It's not easily-breakable. UF water purifiers are like RO water purifiers but they have smaller pores in their membranes as compared to RO water purifiers. They can easily be cleaned, and need low-maintenance.
If you are looking for a low-budget, low- maintenance water purifier, you must not ignore Ultrafiltration water purifier. It is easy to clean and works without electricity, which definitely saves you some bucks. so, why wait when you can get yourself pure, clean water without electricity, and that at a low cost.