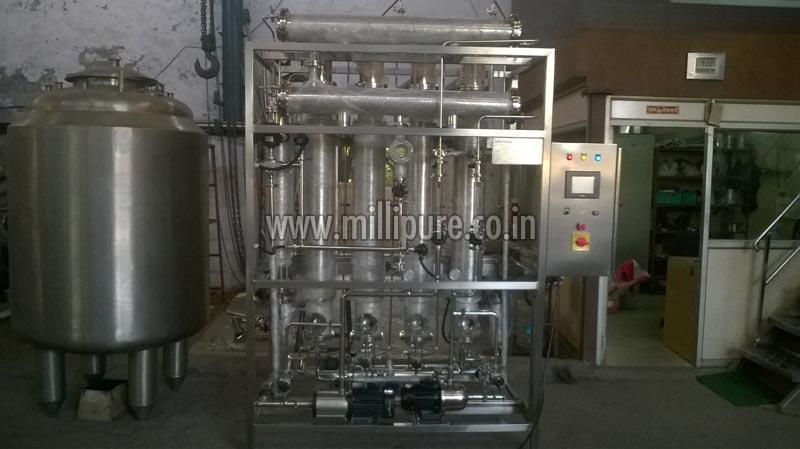 Distillation Is a process in which any component or substance is separated from a liquid mixture. Therefore distillation plant performs the work of separating the liquid from other substances. The multi-Column Distillation plant as the name suggests is a plant where distillation takes place on multi-columns or multi-levels. It can also be called the multi-effect distillation process. The process of distillation takes place in a variety of stages and mostly

Process Of Function

The first column present in the multi-column distillation plant is heated by an externally presented plant steam. Then the vapor which is generated by the water rises to the column where it is then put in the separation system. The steam that is generated from this column then passes through a path consisting of various multidirectional baffles.

In this place, the pyrogen particles and water droplets separate and then they make their way to the end of the column. Centrifugal force is then applied in a separator high up in the column which further provides the second punch. In this place, the vapor is further made to go through a narrow and circular tube where it starts to rotate.

The flow of the vapor which generally contains the pyrogenic impurities and droplets moves towards a higher centrifugal force where it dislodges them from the steam of the vapor. The distillation units are well attached to a multiple effect system. In this process, external energy is only needed during the first column. The steam generated in each column moves from one to the other subsequent columns.

Then the heat which is created in the Last column along with any condensed particles attached is moved towards the cooling station. Every multi-column distillation plant manufacturers provide an overhead cooling and heat exchanger from where the main process of cooling is done. Cooling water here is utilised for the process.

Advantages

1. Multi-column distillation plant generally requires way lesser amount of energy than in comparison to any other thermal processing plant.
2. It is an extremely easy and simple plant to operate.
3. It generally can go down to very low temperature and low concentration which helps it to prevent erosion.
4. Doesn't require a huge cost to maintain the overall well-being of this plant.

Disadvantages

1. It does not work properly with higher temperatures and high concentrations.
2. It is very complex.
3. Multicolumn distillation plant manufacturers claim that it comes with a lot of larger parts which makes it hard to scale down to smaller sizes.

Features

1. Multi-column distillation plant is produced in a way that makes it up to the norms and societal standards as mentioned by the government.
2. It comes with all modern features which allow it to perform exceptionally well.
3. Availability of various sizes and litres per hour is available in the market to try.
4. Multi-column distillation plants and complex and super high maintainable

This is a complete overview of a multi-column distillation plant for it to be more understandable to others.