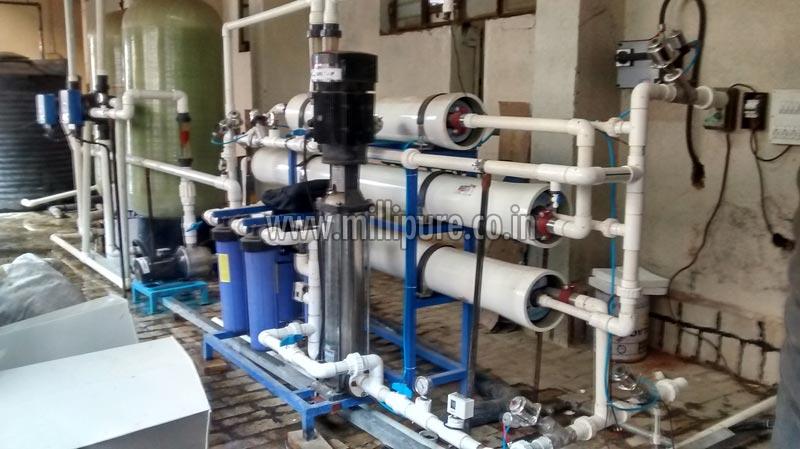 A Reverse Osmosis (RO) Plant is typically a water treatment plant appropriate to remove harmful elements and impurities from the water through a reverse osmosis technique.


What is the Reverse Osmosis process?


It works basically on the reversal of the natural phenomenon of osmosis. In this process, external pressure is applied to the water that contains a higher concentration of dissolved ions, forcing the water to pass through the partially permeable membrane(synthetic lining) in the opposite direction. This process leaves behind the dissolved ions and the suspended solids to give clean and safe drinking water.


The reverse osmosis (RO) water purification system is considered one of the most reliable technologies to get purified drinking water. These days you will hardly see anyone who doesn't use the RO system in their households or commercial spaces. The reason for the popularity of RO plants is that the water we receive isn't always free from impurities. It may have high TDS, pH, contaminants, microorganisms, etc. and the presence of these can considerably cause adverse health effects to humans. Today, millions of people depend on R.O plants for clean water supply in commercial as well as residential complexes. Therefore, the installation of RO plants has become a necessity to overcome inadequate clean water supply.


Majorly there are two types of RO plants; one is the domestic RO plant which is made to suit the needs at a smaller level.


The other one is the commercial/industrial RO plant which is specifically designed to suit water needs at a more significant level such as schools, hospitals, hotels, factories etc. RO plants have widespread commercial usage to ensure public health and smooth operation.


RO plants have the utmost importance in the commercial industry. One of the beneficial attributes of RO water plants for the industry is its environmental benefits. It produces less hazardous wastewater in comparison to other purification systems. This happens because it does not require any hazardous chemicals in the process of producing high-quality filtered water. The RO plant process is considered one of the greenest solutions for industrial wastewater.


Working principle of a RO plant


Firstly, the water to be treated comes into the RO system via a break tank or a feed from the mains.


RO water systems require a higher pressure pump to drive the water through the permeable membranes that most filtration systems do not need.


It also requires pressure to be able to remove more impurities like ions, unwanted molecules, and large particles than other filtration options can offer.


It ultimately improves the quality of the incoming water supply by reducing the TDS (totally dissolved solids) and microelements.


Since water is the basic and essential need of every living being, the water demand is never-ending. According to recent studies conducted in some cities of India to check the quality of tap water/river water, it has been found that water has high levels of pollutants such as nitrates and heavy metals, so it has been stated that it is not safe for drinking.


Drinking RO 100% pure water improves general health and well-being by improving digestive health, supporting kidney function along with several other benefits. Therefore, the scope for RO plant manufacturers in India is good as well as profitable to start a business.


Here are a few important aspects that need to be kept in mind by RO plant manufacturers India-


RO plant manufacturers should have a widespread state-of-the-art fully-equipped production unit endowed with ultramodern computer-aided design.


They should be empowered to fulfil small as well as bulk orders efficiently.


They should have assembled teams of engineers, skilled workers and technicians after following stringent hiring processes.



Their team members should be highly experienced; who are well versed in the art of machining job work.


They should possess all the necessary registrations and licenses required for a Manufacturer and Supplier in India.


Conclusion


The RO plant is famous for its simple design, compactness, sturdy, and in-built advanced technology.
RO plant manufacturers India
are contributing greatly in providing pure water that is safe and healthy to consume for everyone.