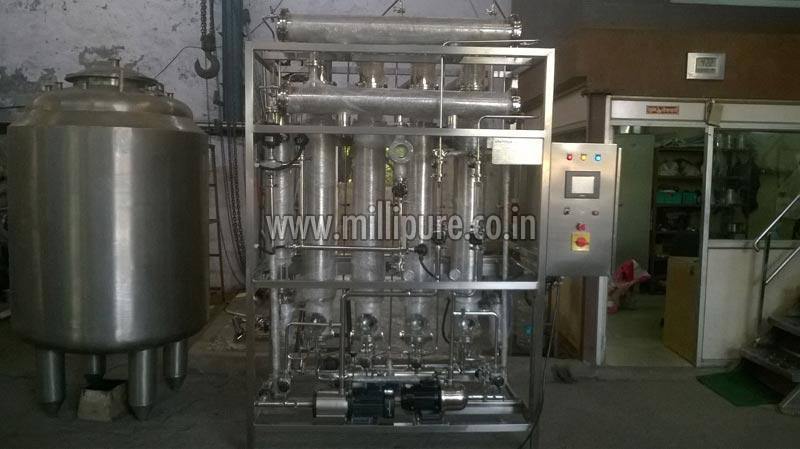 The multi-column distillation water plant works on the principle of heat exchanger, which in turn helps to reduce the energy required in the water system. To make water free of germs and other impurities, the multi-column distillation plant is perfectly designed. The distillation plant system works the best from removing impurities and germs from water and making it sterile free. It produces pyrogen-free water at a much lower setup and cost compared to the conventional methods.
The multi Column distillation plant system is put to use only after running a quality check of the machine. It helps lower energy consumption required for cooling water. Using vapor under high velocity with pressure helps develop a centrifugal force that helps get rid of pyrogenic content in the vapors.

What are the Features of the Distillation Plant System?

In the multi-column distillation plant manufacturer unit, the manufacturing team uses the system for its excellent features. Some of them are enumerated in the following part of the article.

1. Due to the compact design of the plant, it is easy to operate and requires little and timely maintenance
2. It helps in great energy-saving to almost 75% as it requires less energy along with cooling water to run the machine
3. It has less maintenance cost as the machine has only fixed parts
4. By use of centrifugal force, the pyrogen is removed and it is cleaned through the spiral designed baffles attached with the machine
5. As it is installed with a multi-stage pump in horizontal shape, it helps in ease of usage
6. The control system of the machine is easy to use as installed with indicating lamps
7. The distillate temperate has a high range of 90 to 95
8. The gasket is made from quality Teflon that goes off for a long time
9. The tubes and pipes attached into the machine are seamless to use
Due to the ease of accessibility, the water distilled plant system can be used both by beginners and experienced who are part of the manufacturing unit.

Other Details of Distilled Plant System

• The filtering system is arranged in such a way that it helps in significant energy saving compared to the traditional methods of distillation
• The plant system parts are premium quality ones that are highly polished and do not tend to catch moisture. So, it prevents problems of rust
• The tubes and the pipes have easy fixation into the system that requires little technical interference to maintain it
However, to get quality machines, it is better to get it from a reliable manufacturing team. With better experience, engineering and service companies are able to deliver premium quality products that meet the latest industry standards.

Stages of Function of Distillation Plant System

• Steam is generated in the first column of the machine that passes through multidirectional baffles. It helps in the separation of pyrogen and droplets
• In the second column, the vapor goes through a narrow channel where it rotates for better purification and finally dislodges the vapor steam
• The steam then gets collected into another column, and it is passed to the overhead exchanger